World Risk Report - 2018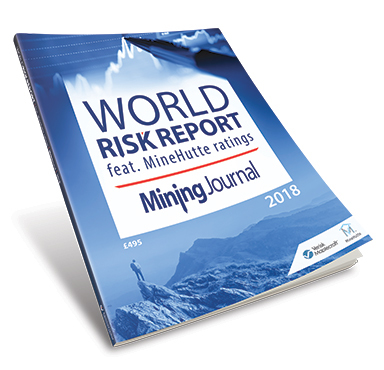 The annual Mining Journal World Risk Report (feat.MineHutte ratings) is a comprehensive review of mining risk, which includes a jurisdiction-by-jurisdiction ratings system and an assessment of general business and operating risks and trends.
This report includes Mining Journal's Investment Risk Index, a robust system for rating jurisdictions across multiple metrics covering Legal, Governance, Social, Fiscal and Infrastructure risks.
It is weighted toward hard, established risk-related indices but also includes perceived risk, which comes from the findings of a refocused World Risk Survey.
Investment Risk Index rates jurisdictions across five risk categories: Legal, Governance, Social, Fiscal and Infrastructure.
Includes MineHutte's Regulatory Risk Rating for mining codes globally, along with its Corruption Risk Index.
'Hard Risk' numbers are gathered from established risk metrics and combined with 'Risk Perception' numbers gathered from our World Risk Survey.
Scores weighted toward Hard numbers to provide stability and transparency to ratings year-on-year.
Separate General Risk section ranks and assesses headlining Business and Operating risks on severity, manageability and trend (increasing or receding).
More than 3,800 unique and aggregated datapoints and some 30,000 words of analysis,discussion and thought leadership.
Purchase your copy today!
(Your copy of the printed report will me sent in the mail as soon we receive the order)
- Alternatively, purchase an annual subscription to Mining Journal to receive full access to the World Risk Report plus four more quarterly research reports (Finance, METS and Leadership) per year. Click here to subscribe now.