Mining Essentials Premium+MMi Website and Magazine (3 Users)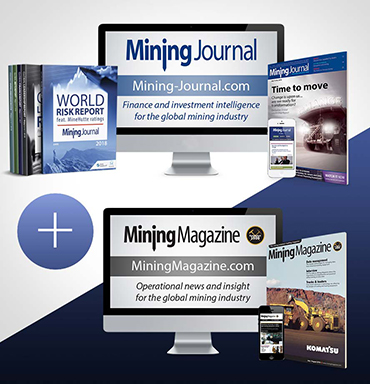 For a more holistic view of the mining industry opt for a Premium Mining Essentials package (Mining Journal + Mining Magazine).
Mining Journal provides news, exclusive interviews, surveys, and opinions from various experts and the industry's best columnists. Receive up-to-date market trend data, financial information and news of business development opportunities.
Mining Magazine provides in-depth, technical insight into all operational aspects of mining. It is designed to inform and assist mine management with decisions on extraction techniques and technologies, as well as issues affecting their workforce, logistics and supply chains.
You receive:
3-user website access to MiningMagazine.com and Mining-Journal.com
3-user eMagazine access
4 annual reports (valued at £695 each) produced by Mining Journal's Intelligence division, centred on the most relevant discussion points in the mining sector: Risk, Finance, Leadership, and Projects
4 annual reports (valued at £955 each) produced by Mining Magazine's Intelligence division, centred on the most relevant discussion points in the mining sector: Automation, Digitalisation, Future Fleets and Exploration
The latest issue of the Mining magazine and Mining Journal magazine
Daily Morning, Global, and Americas-focused newsletters
The industry's most insightful investment columns
Quality coverage of all key industry events
Market-leading insights into the technology and services investment spaces
Independent company/project reports
Data-rich country and state reports providing a snapshot of a regions' investment appeal
Unique stocks and sector data, with commentary